Inhoud Adoranten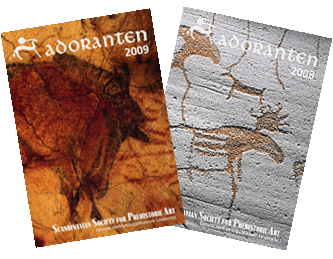 Een aantal artikelen zijn door de Scandinavian Society for Prehistoric Art als PDF files online gezet. Om het u gemakkelijk te maken hebben wij de artikelen uit de meest recente Adoranten van een link voorzien. Deze pagina's openen in een nieuw venster.
Voor artikelen uit eerdere uitgaven verwijzen wij u naar de site van
The Scandinavian Society for Prehistoric Art
onder Publications - Adoranten.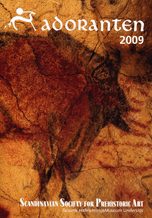 Prologue
José Antonio Lasheras: The Cave of Altamira
Alec Campbel & Lawrence Robbins: Tsodilo Hill, Botswana
Anne-Marie Pessin & Niède Guidon: Dating rock art paintings in Serra de Capivara
Klavs Randsborg: Spirals!
Jesper Nielsen, Thore Bjørnvig & Toke Sellner Reunert: Seductive Similarities
Helena Forshell: Rock Art
Joakim Goldhahn: Rock art for the dead and un-dead
Jean-Marie Guastavino: Graffiti or rock carvings?
Gerhard Milstreu: Nyt fra museets arbejdsmark
Reviews

Terug naar boven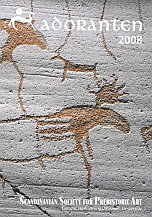 Prologue
Jean Clottes: Unesco's World Heritage List and Rock Art.
Emmanuel Anati: Rock Art of Valcamonica
Alberto Marretta: Digging the Past in Valcamonica
Umberto Sansoni: The Images of Prehistory in Europe
Karin Tansem & Heidi Johansen: The World Heritage Rock Art in Alta
Reindun L. Andreassen: Rock Art in Northern Fennoscandia and Eurasia
Carolyn Toner: The Diversity of California Rock Art
Elena Man-Estier: Naturalism and Realism in Prehistoric Art
Umberto Sansoni and Liliana Fratti: Mountain Worship
Jonas Svensson & Jesper Clarito: Excavations at Edlunds Backe
Inge & Heinz Diethelm: Megalithic Places on the Islands of Orkney
Bjarne Stig Hansen: Newly found Paintings in Valcamonica?
Gerhard Milstreu: Nyt fra museets arbejdsmark
Reviews
Terug naar boven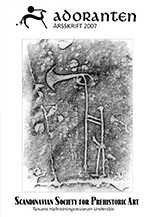 Prologue - Excavations - Rock Art in Context.
Yolanda Seoane Veiga: Galician Rock Art.
Per Nilsson: Rock Carvings and Settlements at Himmelstalund
Geaorg Nash and Adam Stanford: Barclodiad y Gawes
George Nash, Abby George and Laurie Waite: Cae-Dyni Cupmarks
Lasse Bengtsson and Johan Ling: Scandinavia's most finds associated rock art sites
Flemming Kaul: Sotetorp - endnu engang
Adolfo Zavaroni: Raised upon hands
Umberto Sansoni and Liliana Fratti: Mountain Worship
Kalle Sognnes: Nyfunnet Helleristningsskiløper
Ulf Bertilsson: Svenskt HällristningsForskningsArkiv
Gerhard Milstreu: Nyt fra Museets Arbejdsmark
Terug naar boven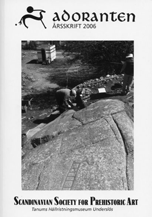 Special Edition: Excavations - Rock Art in Context
Trond Lødøen: Exploring the contemporary context of Rock Art
Helena Taskinen: Excavations at rock painting sites in Finland
Flemming Kaul: Udgravninger ved helleristninger (with English summary)
Palle Ø. Sørensen: Arkæologiske udgravninger på Bornholm
Ulf Bertilsson: Excavations at rock carvings in Bohuslän
Eva Lindgaard: A petroglyph site in Nord Trøndelag
Anders Hansson: The rock paintings at Flatruet
Gerhard Milstreu: Nyt fra Museets Arbejdsmark
Terug naar boven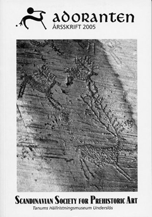 Johan Ling: Elevated Rock Art
Bjørn Berg: Rock Carvings and Shamanism
Inge und Heinz Diethelm: Rock Art in Orissa, India
Jan Swantesson: Weathering and decay
Maarten van Hoek: Toro Muerto, Peru
Silvana Gavaldo - Umberto Sansoni: Valcamonica - archaeological discoveries
Franz Winzentsen: Ein springender Gott?
Werner Pichler: Podomorphe Darstellungen
Gerhard Milstreu: Report - Tanums Hällristningsmuseum
Bjarne Stig Hansen: Levantine Paintings
Terug naar boven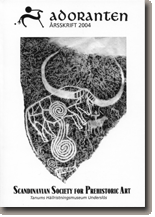 Ernesto Oeschger: Sahara Algeria
George Nash: Establishing a new narrative
Anneliese Peschlow-Bindokat: Feste am heiligen Berg
Inge und Heinz Diethelm: The Megalithic Monuments of Switserland
Bernt Ove Viklund: The space of red ochre
Karl-Johan Olofsson: Glösa - Transfiguring Rock Art
Dietrich Evers: Die Macht des Homo Faber
Niels V.Skak-Nielsen: The Neolithisation of Scandinavia
Berit Johnsen: Dobbeltkønnetheden i bronzealderens symbolverden
Bjarne Stig Hansen: Tsodilo - Mountain of the Gods
Gerhard Milstreu: Nyt fra Museets Arbejdsmark
Michael Sturm-Berger: Mythos der europäischen Wasservögel
Terug naar boven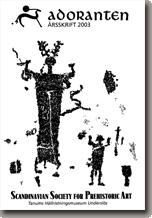 Noelene Cole: Rock Art in the Laura Sandstones
George Nash: From life to death
Åsa Sjöholm: Scandinavian Rock Carvings and Sardinian Bronzes
Liliana Fratti: New suggestions
Umberto Sansoni: Zurla - Discoveries in Valcamonica in 2003
Inge und Heinz Diethelm: Algeria
S-G Broström, K. Ihrestam: Nyupptäckta hällristningar
Gerhard Milstreu: Nyt fra Museets Arbejdsmark
Tommy Andersson och Andreas Toreld: Mannen från Legene
Terug naar boven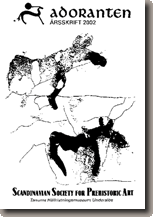 Umberto Sansoni: Recent discoveries in Zurla and Dos Cuì
Antero Kare: Cluster of Sites: Rock Paintings in Finland
Johan Adetorp: Guldbrakteaternas ikonografi
Stan Beckensall: British Prehistoric Rock Art
Inge and Heinz Diethelm: Rock Art in Macedonia
Maarten van Hoek: Symbiosis in rock art
Michael Sturm-Berger: Enten, Gänsen und Schwänen
Dietrich Evers: Die Magie der Rasiermesser zur Jungbronzezeit
Simonetta Boldoni-Serena Solano: Schematic Art in the Middle Valcamonica
John Coles: A 'new' carving?
Gerhard Milstreu: Nyt fra Museets Arbejdsmark
Terug naar boven